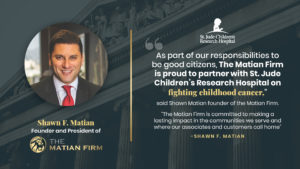 Windsor Troy donates to St. Jude Children's Research Hospital to continue fighting childhood cancer
LOS ANGELES, NOVEMBER 27, 2019 – Shawn Matian, Founder and President of Windsor Troy is pleased to announce a charitable donation in the amount of $3,333 to St. Jude Children's Research Hospital to continue fighting childhood cancer and life-threatening diseases. This commitment follows Mr. Matian's contributions to multiple other non-profit companies in his quest to support organizations that help transform the lives of our youth. The donation will support the ongoing research and treatments being offered to children at no cost.
St. Jude Children's Hospital has been serving children from around the world for over 50 years. The research and treatments created at St. Jude has helped the overall childhood cancer survival rate from 20% to over 80%, their goal is to get that survival rate to 100%.
"As part of our responsibilities to be good citizens, Windsor Troy is proud to partner with St. Jude Children's Research Hospital on fighting childhood cancer," said Shawn Matian founder of Windsor Troy. "Windsor Troy is committed to making a lasting impact in the communities we serve and where our associates and customers call home."
Shawn Matian is the Founder and President of Windsor Troy, APC. Matian, a practicing litigating attorney, has been licensed by the California State Bar since 2006. Under the guidance of Matian, Windsor Troy has grown to reach over 100 employees, 25 associate attorneys and maintains three full-scale offices in the cities of, Los Angeles, San Jose, and Ontario, California. Matian has also accumulated online assets that have not only added long term asset value but has positioned the firm to be a marquee online advertiser.
Windsor Troy has helped thousands of clients with their immigration and criminal cases by providing excellent legal services with the aid from their experienced, aggressive, and zealous attorneys who are prepared to protect the rights of all immigrants as well as those who stand accused of committing a crime. Windsor Troy provides legal services in all immigration and criminal matters including, but not limited to: deportation defense, family petitions, U-Visas, DACA, FOIA, Asylum, and VAWA. The firm also handles all criminal felony and misdemeanor matters including cases related to: Driving Under the Influence (DUI/DWI), drug offenses, domestic violence matters, theft/robbery cases, sex crimes, violent crimes, fraud, arrest warrants, and cases falling under federal jurisdiction.
Windsor Troy is located at 3701 Wilshire Blvd Suite 210, Los Angeles, California 90010. This year also welcomes two new locations to serve the Bay Area / Northern California at 111 N. Market Street Suite 888 in San Jose, California 95113 and the Inland Empire in Ontario located at 4200 Concourse St. Ontario, CA 91764
More information on the firm, its attorneys, and its casework can be found on the web: www.MatianLegal.com
Media Contact:
Lou Petracci
711 Media
909-904-3708
87 E Green Street Suite 301
Pasadena, CA 91105